Operation Christmas Child
Use your own shoebox or pick up a free empty shoebox at our Church Office during the week, or in the Atrium on Sundays, while supplies last.
Use either an adhesive or printable label to indicate whether your shoebox is for a boy or girl and what age.
Get a label on Samaritan's Purse's website.
Fill your shoebox with gifts for your child.
Use the guide on Samaritan's Purse's website for suggestions on age and gender appropriate gifts.
4. Pray over your shoebox
Pray for the child who will receive your shoebox. Pray that their family would be receptive to the Good News of Jesus Christ. Pray for the pastor of the church who will deliver your shoebox. Also pray that the child's community would be transformed by the Gospel.
Please write a $10 check for the shipping and handling of the shoebox made out to Samaritan's Purse. You can also donate online and get a label that allows you to track what country your shoebox goes to.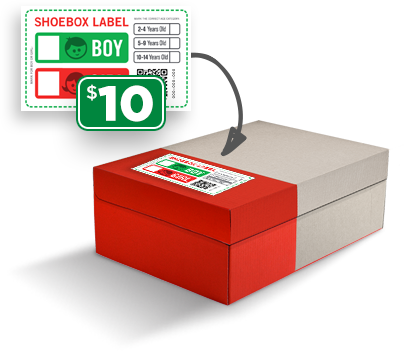 Drop off your filled and labeled shoebox at Creekside anytime from October 15 to November 12.
Options for dropping off shoeboxes
Sundays in the atrium
Weekdays at the church office